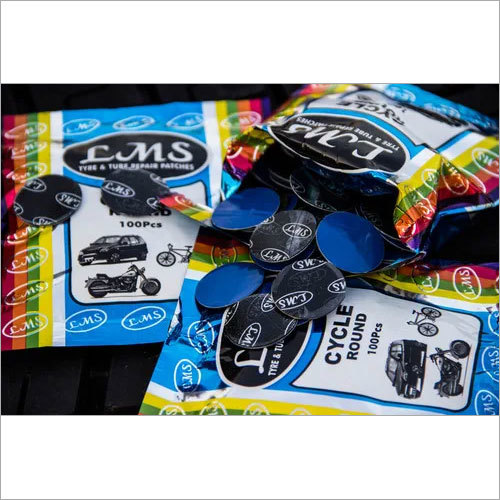 Cycle Round tube repair patch
Price And Quantity
2000 Dollar-20000 Indian

Box/Boxes,
Product Specifications
Product Description
Cycle LMS ROUNDS REPAIRS & Cycle SHEETS:-
We are the pioneers of self vulcanizing repairs in India. Our repairs are permanent & safe and twice as strong as the tube itself. Our range of round and oval repairs cater to almost any kind of tube injury.
Besides 2-way tube repairs, Cycle Puncture Strips and Sheets are available for vulcaniser to cut patches to sizes that suit the injury. These are available in two sizes of 125 x 95 and 330x254 mm.

ROUND 2-WAY TUBE REPAIRS

Cat. No.

Description

Box Qty.

Dim. (Inch.)

Dim. (mm)

LMS08

Cycle Patch

100

1

25

LMS09

Tiny Round

100

1

25
CYCLE PUNCTURE STRIPS & SHEETS

Cat. No.

Description

Box Qty.

Dim. (Inch.)

Dim. (mm)

LMS25

Cycle Sheet

5

13 x 10

330 x 254
automotive:
LMS ROUNDS REPAIRS
We are the pioneers of self vulcanizing repairs in India. Our repairs are permanent & safe and twice as strong as the tube itself. Our range of round and oval repairs cater to almost any kind of tube injury
ROUND 2-WAY TUBE REPAIRS

Cat. No.

Description

Box Qty.

Dim. (Inch.)

Dim. (mm)

LMS09

Tiny Round

100

1

25

LMS10

Mini Round

50

13/4

35

LMS11

Small Round

40

11/4

45

LMS12

Medium Round

30

21/4

60

LMS13

Large Round

20

31/8

80

LMS14

Maxi Round

20

415/16

100

LMS15

Giant Round

10

5

125
LMS OVAL REPAIRS
We are one of the biggest quality manufacturers of self vulcanizing repairs in India. Our repairs are permanent & safe and as strong as the tube itself. Our range of round and oval repairs cater to almost any kind of tube injury
OVAL 2-WAY TUBE REPAIRS

Cat. No.

Description

Box Qty.

Dim. (Inch.)

Dim. (mm)

LMS 16

Mini Oval

100

11/2 x 1%

40 x 30

LMS 17

Small Oval

30

21/2 x 1 1/2

65 x 40

LMS 18

Medium Oval

20

4 x 2

100 x 50

LMS 19

Large Oval

20

6 x 23/4

150 x 70

LMS 20

Giant Oval

10

61/2 x 4

160 x 100

LMS 21

Giant Rim

10

91/2 x 21/4

240 x 60
Trade Information
As per requiement Per Month

30 Days